Appointments System
How to See Your Doctor
If you have chest pains (which continue for 15 minutes at rest) call 999 and seek urgent medical attention. The surgery is not equipped to deal with these medical situations.
Appointments by phone can be booked from 8.30am each morning Monday - Friday
During the week you can also Use E-consult on the website which ensures a response by the end of the next working day - and usually the same day.
We also have appointment available for on-line booking. However these will be monitored to ensure that the bookings are appropriate to the clinician.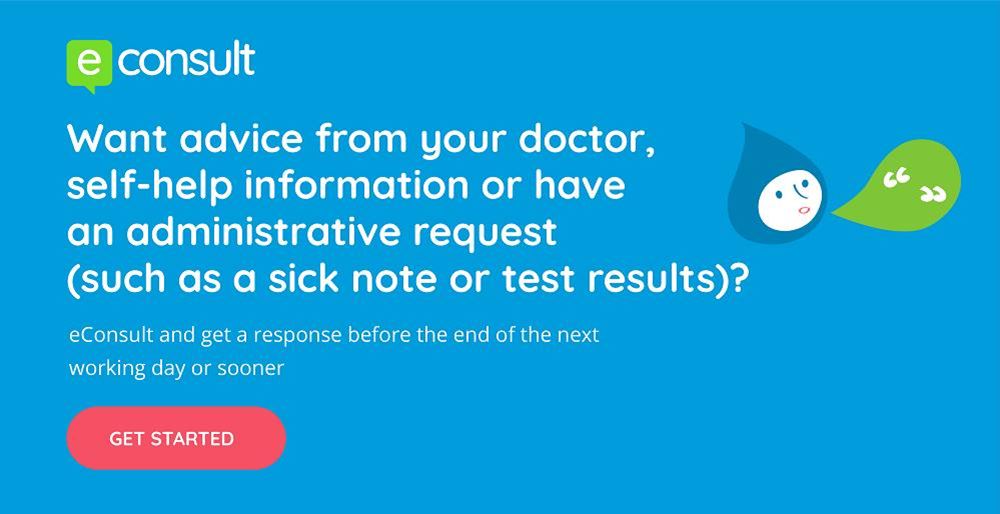 For all minor illnesses you should ask for a minor illness appointment. These are with Advanced Nurse Practitioners or Physician Associates who can diagnose and prescribe. This leaves the GPs free to see acute and complex problems.
Patients are registered with the practice but have an accountable GP, however patients have the choice to see any GP, subject to availability.
If you have an ongoing medical problem, you should normally ask to speak to the same doctor, for continuity of care and staff will try and book you a telephone call with your usual GP when they are next available.
If your problem is more complex and you need to speak to a Doctor urgently, you will added to the Urgent triage list and will be phoned back in priority order. The GP will assess your problem and decide if this can be dealt with by phone or if they need to book set up a video consultation, ask you to text in pictures or see you face to face.
Casualties (e.g. cuts, burns, accidents, fractures, etc.) should attend the Casualty Department of Clevedon Hospital.
Extended Hours
Monday 07:30 – 08:30
Tuesday 07:00 – 08:30
Tuesday 18:30 – 20:00
Extended Access Service
If you require an appointment on a Saturday, and we are not open, you may be offered an appointment at another surgery in the area. If you accept an appointment at another surgery we will enable the GP at that surgery to have electronic access to your records for your appointment.
GP appointments are now available in your area during the evenings and at the weekend. To book an appointment, contact your practice.
Home Visits
If possible please try to telephone reception before 10:30.
If you require a home visit please call:
01275 350666 /335680
A doctor or nurse, or our paramedic may phone you back before making a visit, as it may be that your problem can be dealt with by telephone advice, or that it would be more appropriate to send a different type of clinician, or indeed arrange a hospital attendance.
House visits are only available for patients who are housebound because of illness or disability.
Please remember that several patients can be seen in the practice in the time that it takes to make one home visit. There are also better facilities for examining and treating patients at the surgery.
Emergency calls and urgent requests will be accepted at any time.
Reception Team
We aim to answer calls as quickly as possible, however at busy times you may have to wait and your call will be put in a queue
In case of a medical emergency dial 999 for an ambulance.
Please avoid phoning on Monday morning if possible unless you are requesting an appointment.
Chaperoning
A chaperone will be made available during any examinations if felt necessary by a clinician, patient, carer or guardians request.
Not Registered for Online Services?
Cancel an Appointment
If you cannot keep the appointment, please ring 01275 335666/ 335680 to let us know in good time so that the telephone slot can be offered to someone else.
When the surgery is closed please select option 2 to leave a message to advise us you are cancelling your appointment. If for any reason this option is not available you can send a message via this website which will go directly to the administrator as an email.
Text Reminder Service
We have a texting service which allows you to receive confirmation and reminders about your appointments.
To have this service you will need to register by completing a consent form.
Please remember to update your contact details with us when you change address, telephone numbers and email address.